Thank you for all of your amazing comments about
The Hepburn Hepburn Project!
I'm particularly happy that several of you have decided to sew along with me. Thank you! I'm very happy to have the company and even if you only make one Audrey or Kate inspired item, you're definitely part of the project.
Two of my goals for this project are to be able to successfully participate in
Self-Stitched September
and to keep building my
Handmade Closet
; it's a case of 'go big or go home.' :)
My
pattern giveaway
to celebrate this new project is still open. If you'd like to enter to win some awesome patterns, please click here. The contest is open to anyone worldwide and closes at
11:59 p.m. on August 10th
.
* * * * *

JOIN ME!
Would you like to
sew along with me
? Choose your Kate and Audrey inspired items and let's get sewing! Copy the code below and post it on your blog and take a peek at the project
Flickr group
. Be sure to leave me a comment, as I'd love to follow your progress, too!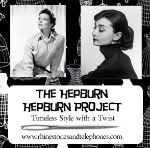 **Photos are used for illustrative purposes. No copyright infringement is intended
Katharine Hepburn photo credit
Audrey Hepburn photo credit