I've always loved Audrey Hepburn's and Katharine Hepburn's timeless style
. Crisp oxford shirt and trousers for Kate and slim cigarette trousers and ballet neck tops for Audrey. Beautiful! Thinking about their style, I decided that it would be the ideal project for my fall and winter sewing.
I wear mostly separates in the fall and winter, so this is the ideal opportunity for me to get really creative. One of my goals is to keep this project simple and achievable, as well as to fill my wardrobe with handmade, classic pieces that I will wear year after year.
I've chosen the following patterns and fabrics for several reasons:
Unlike other projects I have set for myself, I've really decided to relax and enjoy this one; let things progress as they will. I took out the deadline I had originally set and will simply sew away on this project until it's finished.



COLOURS & FABRICS


I have chosen a simple colour scheme for this project. I'll be able to mix and match easily, both with items I'm making and items I already have.


TOPS
Simplicity 2601
I love the pretty blouses in this pattern. View E with its pretty shawl collar and cap sleeves will be a lovely addition to
my wardrobe
.
Vogue 2396

I'm going to make the beautiful bateau neckline blouse from either a polka dot or floral print.

SKIRTS

Butterick

2235 (1950's)
, skirt by
bossanovababy
I saw the scissors skirt on an
Etsy
treasury and fell in love with it.
My version
will have red appliqued scissors and red rick rack trim.
I'm also making two plain versions of this skirt; one in black corduroy and one in aubergine corduroy.
I'm thinking outside of the box a bit with this one, as I'm making this pencil-style skirt out of purple boiled wool with a slight silver sparkle.
DRESSES
So very Audrey, no? I am going to make View B out of a gorgeous black linen I have in my stash. I can easily pair this with several knit and woven tops I have in my closet. Layer with a cozy cardigan, warm tights and boots and I'll be set!
CAPRIS
I need a standard black pair of capris and
Simplicity 4680
fits the bill perfectly. I'm making View 1, minus the patch pockets, out of denim.

CROCHET PROJECT
S
I have only recently picked up crocheting again. To start, I wanted one beginner project and I made this hat:
The Audrey Cloche
I also plan on making this easy shrug from
Mary Jane Hall
's
Positively Crochet
:
* * * * *

PATTERN GIVEAWAY
If you'd like to enter the
Hepburn Hepburn Project Pattern Giveaway
, please leave your name, pattern(s) that you'd like to win, and email address in the comments here. Click
here
to see what's up for grabs and how you can earn extra entries. Winners will be drawn on August 11
th
.
Would you like to create along with me? Choose your Kate and Audrey inspired items and let's get cracking! Copy the code below and post it on your blog and take a peek at the project
Flickr

group
. Be sure to leave me a comment, as I'd love to follow your progress, too!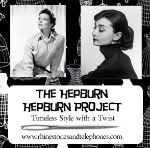 * * * * *

Click here to see my Hepburn Hepburn Project creations.

**Photos are used for illustrative purposes. No copyright infringement is intended
Katharine Hepburn photo credit
Audrey Hepburn photo credit