It's been far too long since I've done a
Sewing Through the Decades
update. I just love this project and co-hosting with Debi is always a treat.
It took me a while to settle on what I would sew for this challenge. At first, I thought I would challenge myself and sew patterns outside of my favourite decades, but that ended up making my inspiration and sewing mojo take a big face plant. Not so good for productivity. In the end, I returned to one of my favourite decades - the 1960's - and decided to sew one garment from each year. I have all of my patterns lined up, which you can see
here
.
1960
My first outfit of the year was made from one of my favourite tunic patterns from 1960:
Butterick 7762
. I also made a pair of trousers (and have since made another) from
Butterick 2507
, which I am unfortunately able to pinpoint the exact year of publication. If anyone can help, it would be greatly appreciated!
For my next project, I'm jumping ahead to
1963
and sewing this super cute playsuit set using
Mail Order 9487
. This is another stash busting project, as I have had the fabric for more than 2 years.
Sew along with us!
Debi
has done such a beautiful job and
Lisette's
1970's experience is awesome! There is so much inspiration in the
Flickr group
and I encourage you to stop by and take a peek. Sound like an interesting challenge to you? Feel free to join us and snap up a button below for your own blog!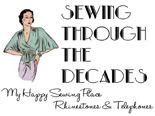 **Photos are used for illustrative purposes. No copyright infringement is intended